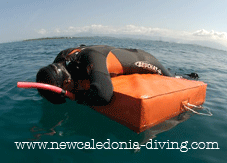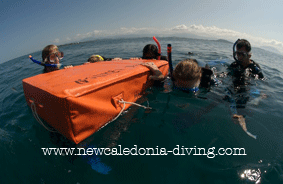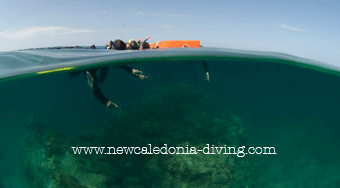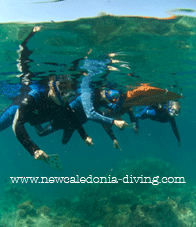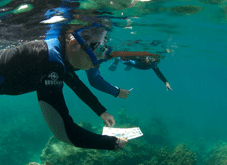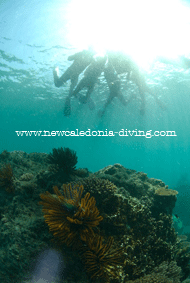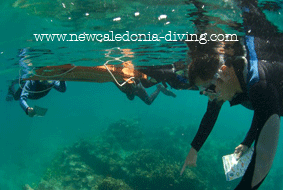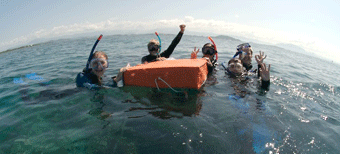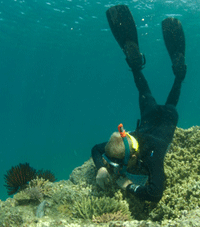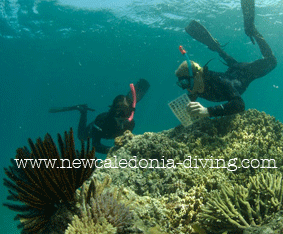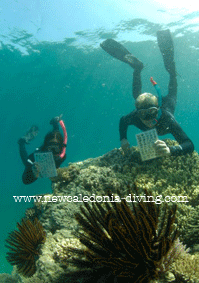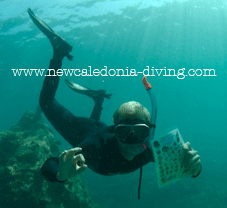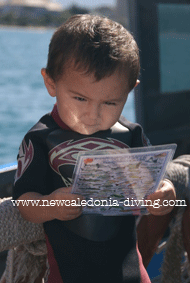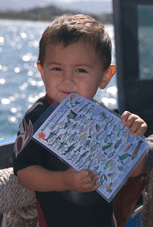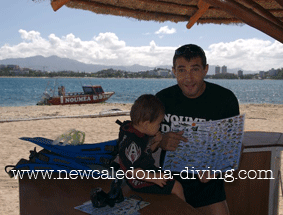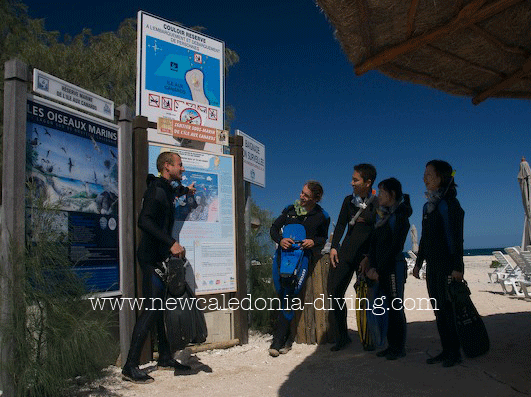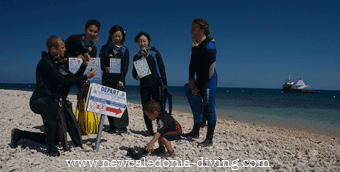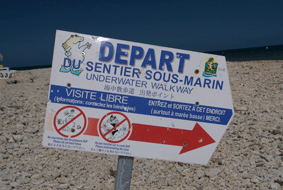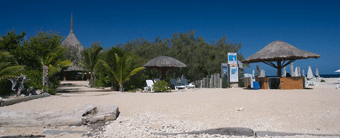 INTRODUCTION to the SNORKLING TOUR
5 minutes away from "Anse Vata" bay, the main beach of Noumea, without knowing how to swim, without training of any sort, enjoy an easy and safe snorkeling tour, along the underwater path, inside the protected area of the marine reserve.
Without knowing how to swim, without training of any sort
Get with us your mask-snorkel-fins, and come to experience an amazing buoyancy with a diving wetsuit, gently floating at the surface to discover the marine life with qualified NOUMEA DIVING instructors. This snorkling tour is open to everybody ! children, parents, grand-parents and friends...
Discover marine fauna and flora : an exciting ecosystem
Alone or with a group, using a large buoy if required for more buoyancy, a waterproof aquaguide and your diving instructor will provide information on the different sites, aquatic life, fish species... all along the swim. Further information being also available, under each buoy on the site.
Increase your aquatic abilities
NOUMEA DIVING instructors will teach you how to increase your free dive abilities, use your fins, snorkel, hold your breath to approach the marine life...
With the best safety conditions
You will quietly swim in a protected area, under the supervision of professional diving/rescue insructors. Will be also available on site the emergency and safety equipment from "IMPERATOR" (oxygen, medic first aid, radio, phone...) and, for your comfort, toilets, hot showers...
Welcome to the UNDERWATER TRACK of "ile aux canards"
Share this exciting experience with your family and friends, get an underwater photo or video film souvenir...
Every afternoon, 7/7 days, NOUMEA DIVING's professionals offer their services, with a professional photographer or cameraman.
You can also get some good advices for your own camera or video use.
Renew this snorkeling experience closed to the great barriere reef
You would like to discover further the underwater world ?
NOUMEA DIVING offers you the possibility to enjoy snorkeling, closed to the great reef and Amedee light house, for a morning trip.
Maybe you will be interested in discovering Scuba ?... Everything is possible and all the diving equipment are available on the Imperator. Just do it...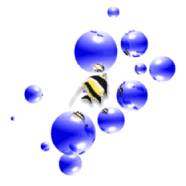 You want more ? another sort of diving experience ? deeper... breathing under the water ?
Enjoy the underwater walk ®, at "ile aux canards" (ducks islet) from the floating pontoon.
Or try the introductory scuba dive at "île aux canards" or to the great barrier reef.
Alan, 18 months old...
Are included all the transferts, snorkling gear, liability insurance and instructor/guide. 30 €.
Summary of this page (with a direct link on the text) :
INTRODUCTION to the snorkling tour in the special marine reserve
HOW to discover the underwater path of "ile aux canards" (duck island) ?
WHAT IS exactly the "UNDERWATER PATH" ? What is the objectives ? Characteristics
LOCATION of different biotopes and map of the track.
HOWMUCH is it ?
It is a discovery path located amidst the underwater world marked out by a series of numbered buyos. No underwater diving experience is necessary, only snorkeling equipment is required.
WHAT IS the OBJECTIVE of an "UNDERWATER TRACK" ?
This underwater path allows everyone to experience the marine world and to appreciate the need to protect our environment.
WHAT ARE the CHARACTERISTICS of the "UNDERWATER TRACK" ?
Length about 500 metres
Duration of the swim about 45 minutes
Depth from 2 to 7 metres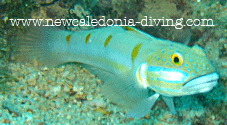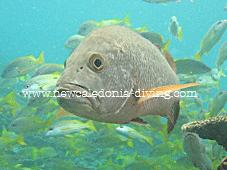 A) Track departure point, depth 0 à 2 metres
To reach the first buoy you will cross a zone in which the seabed is made up of coral fragments and pieces of shells. This seabed has been colonised by microscopic seaweed which attract certain herbivorous fish life, for example parrot fish or rabbit fish.
The currents which revolve around the islet converge in this zone and tend to concentrate all types of organic debris, seaweed and plankton. This debris often attracts butterfly fish as well as the little small spotted pompano.
B) Sandy seabed herbarium, depth 0 à 2 metres
This zone is protected from the swell which favours the formation of a fine sand seabed.
Some species of brown and green seaweed develop in this environment, but the conditions are also ideal for sea grasses which in some parts join together to from a herbarium where fish and invertebrates find shelter and food.
Theses sands harbour a large quantity of organic matter, a feast for numerous fossorial animals. The holothurian species, abundant on the seabed, swallow vast amounts of sand to filter out their food.
C) Talus de corail mort, depth 0 à 2 metres
The strong swells (westerlies blast or cyclones) are capable of shattering the corals, in particular the branched forms. The currents have probably contributed to the accumulation of coral skeletons thus forming a small embankment. Extended emersion at low tide prevents the development of coral in this zone.
Numerous organisms remain, however on these corals (seaweed, perforating animals) which in turn are a food source for many species of molluscs, shellfish and fish.
D) "Forest" of multi-branched coral, depth 0 à 3 metres
On the gentle slope of the embunkment multi-branched coral of the Acropora typa have formed a true underwater "forest". The shallow depth allows for maximum light and a good oxygenation of the water, two of the conditions essential for the development of these construction animals. However, their rate of growth does not exceed 1 cm per year !
This environment provides numerous shelters for small fish, such as the damselfish or clownfish protected in their anemone. Their eggs provide a feast for the egg eating snake which is poisonous but harmless if left alone.
E) Isolated rock formations or "bummies", depth 0 à 6 metres
This zone consists of a succession of rock formations or "bummies", most of which are covered with encrusting sponges and multicoloured coral colonies in a multiplicity of forms.
The chaotic appearance of this coral citadel provides numerous shelters in particular for fish.
Some embankment surrounding buoy n° 4 are exclusively colonised by soft coral. This exceptional environment shelters unusual hosts : trumpet fish, lionfish, crocodile fish, etc...
F) Silt sand seabed, over 6 metres
A vast silt sand zone, scattered with a variety of flowering plants and sponges, stretches the length the reef.
This monotonous landscape is inhatited by numerous invertebrates, living buried beneath the sand surface. They are prey for many carnivorous fish species such as spangled emperor, as well as goat fish which detect their using their bristles located on their lower jaw.
Nestled in the food of the slope, diademes urchins abound and protect the swarms of razor fish between their long spines.